Water Dermabrasion Hydro Peel skin care facial cleansing machine
Model: NV119
Payment means: Credit card,Bank transfer or Western Union
Delivery time:3 days after payment received
Shipping Means: DHL/UPS/EMS
Price: 400 USD
Send Message
What is Water Jet Hydrate Facial Peel Skin Care ?

The procedure that integrates cleansing, exfoliation, extraction and hydration simultaneously. This non-invasive, non-irritating treatment produces beautiful outcomes in skin rejuvenation, anti-aging and acne-prone/oily skin treatment.
This revolutionary skin resurfacing technology is perfect for all and skin types, and patients can return to normal activities with clean, radiant skin with no downtime
This treatment help to improve the appearance of:
*Early aging fine lines and wrinkles
*Hyperpigmentation and melasmaSun damaged
*Age spots
*Blackheads and whiteheadsEnlarged pores
*Excess oil condition
*Hydration
*Puffy eyesSkin Rejuvenation
*Overall skin health
Theory
A water dermabrasion and skin care device includes a water dermabrasion handpiece, a BIO+PDThandpiece,a Bipolar handpiece, a negative pressure air compressor, a two-way flow control valve,a skincare container and a waste water tank.The water dermabrasion handpiece is formed with a water outlet joint and a water inlet joint, which is connected to a water outputting end of the two-way flow control valve, while the water outlet joint is connected to the negativepressure air compressor. One water inputting ends of the two-way flow control valve are connected to a pure water bottle. When the two-way flow control valve is switched to a dermabrasion position or a skincare position, the negative-pressure air compressor can be started to generate a vacuum suction, which will suck pure water from the pure water bottle to flow into the water dermabrasion for executing a dermabrasion operation or a skincare operation.
Application:
1.Scar removal: acne scar and scar caused by burn, surgery and laser treatment
2.Wrinkle removal: remove wrinkles around lips, eye area, eyebrows and neck.
3.Skin rejuvenation: remove pigments and freckles; tighten large pores; clean the skin completely, improve the flexibility and tone of the skin.
4.Acne removal: removes acne, comedones and acne scar. Restrain dermatitis.
Benefits Of Water Jet Oxygen Peel Treatment
Deep facial cleansingAcne treatmentWater dermabrasionDeep hydrationInfusion of nourishments / vitamins/ hyaluronic acid/ DMAE (lifting)Lymph drainageSkin rejuvenation : smoothing smaller wrinkles, toning down the spotsIncrease Collagen LevelEffortless & painless extraction Non-irritating & hydrating ingredients for long-lasting hydration on all skin types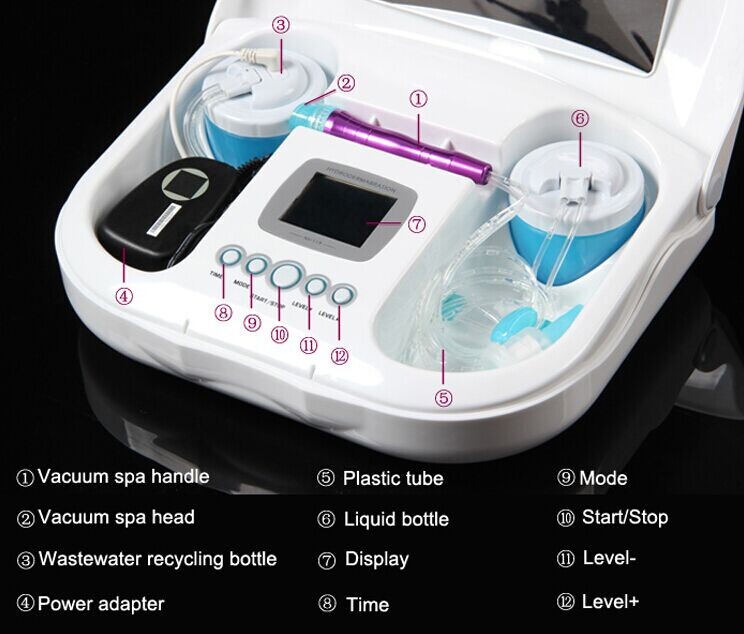 Contact us:
1, Contact by WhatsApp: +86 1305 4446 098
2, send a Email to us (top-slimming@hotmail.com)
3, Click "send message" button at top of the page to send a message.